Willis Morris JÖTTNAR Pro Team
"CONQUERING THE BIGGEST, BADDEST, POINTIEST PART OF THE MOUNTAIN AND THEN SHREDDING BACK DOWN IN A MATTER OF SECONDS. FOR ME, IT IS ALL ABOUT THE MOST CHALLENGING WAY UP AND THE GNARLIEST WAY DOWN."
I started climbing when I was 10 years old and quickly became obsessed with its indoor version. I began competing and soon made my way onto the Scottish team. With my sense of adventure, it didn't take long for the world of real rock to pull me away from plastic and I spent my teenage years learning with friends and branching into every discipline possible. Whether scrambling, sport, trad or even aid climbing, if it was climbing, I wanted at it! At 15, I dived into mountaineering and winter in the Scottish Highlands became my new playground. Like most, I started with the ice classics but quickly realised that it was on the hard mixed routes, during the toughest conditions, that I was really able to push my limits. This 'art of suffering' inevitably led me to the Alps and big-walling on the vast north faces including the Cima Ovest and the Eiger, always via the hardest of routes.
My passion for ascending mountains the hard way led me to look at my achievements and assess what parts of my experience I could make even more epic. I realised that no matter how gnarly I made my ascents, the descent was always slow and unexciting in comparison. This is when I discovered speedflying. I entered the sport in an untraditional way - self-taught. Through perseverance and self-coaching in all weather conditions, plus a lot of dedication and time, I managed to quadruple the average number of weekly flights of any other pilot in the UK through the course of my first year on a wing. With only two years of experience now, I am one of the top UK pilots, pushing the limits of the sport on our mountains here and abroad in the Alps.
The combination of my flying and climbing helped bring together my vision of a new form of mountaineering; one without the limits of heavy equipment or peaks confined by specific launch requirements. Conquering the biggest, baddest, pointiest part of the mountain and then shredding down the distance you have climbed in a matter of seconds. For me, it is all about the most challenging way up and the gnarliest way down.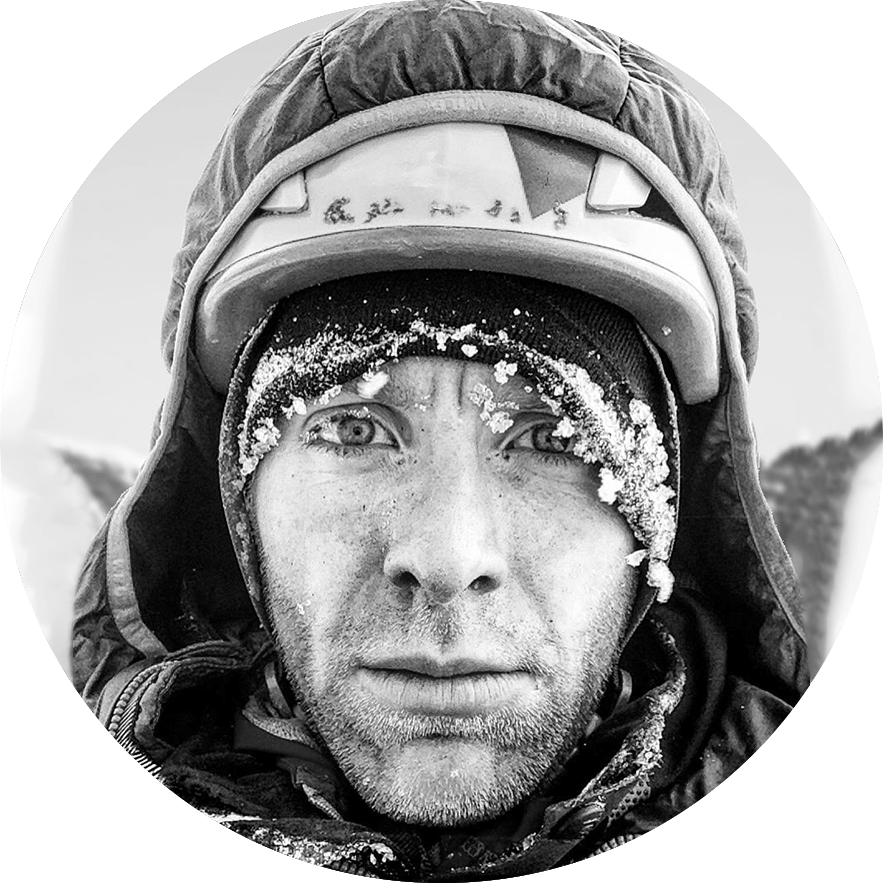 BASE JUMPER | SKIER | CLIMBER